Barbara Kondylis is a trusted and honored Supervisor in Solano County with 35 years of public service. Please join us as we celebrate her lasting contributions as she begins a well deserved retirement.
When:     
Saturday January 26th, 2013     4:00 – 8:00 pm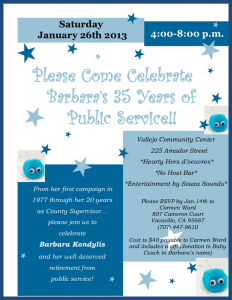 Where:    
Vallejo Community Center on 225 Amador Street  Vallejo, CA
RSVP:
Call (707) 447-9610 BEFORE January 14th.
Tickets:
 $40 which includes a gift (donation to Baby Coach in Barbara's name)